Dr. Roxanne Rottiers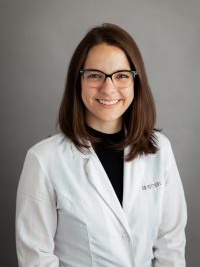 Dr. Roxanne Rottiers graduated from Michigan College of Optometry in 2015.  She has been on multiple mission trips through VOSH to help those in need of eye care.  She is a member of the American Optometric Association, the Michigan Optometric Association, and the Scleral Lens Contact Lens Society.
She is certified in fitting the Paragon CRT lens to slow down the progression of myopia in kids and young adults. She also has an interest in scleral lenses that help correct vision and reduce ocular discomfort in those with corneal irregularities and in the treatment of dry eye disease.
Dr. Rottiers and her husband Kyle grew up in St. Johns and are now living in Grand Ledge with their 9-month-old son, Elliott, and their dogs, Aly & Diesel. Dr. Rottiers enjoys spending time with family, reading, traveling, playing at the Silver Lake Sand Dunes, and visiting Disneyworld.
She has interests in specialty contact lenses, dry eye disease, co-management of Lasik and cataract surgery, and the management of diabetes, macular degeneration, and glaucoma.