Dr. Zach Peters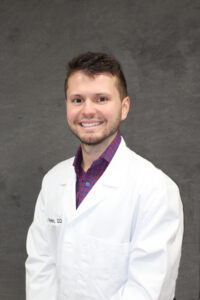 Zach Peters grew up in St. Johns and attended St. Johns High School. Following his time as a Redwing, Zach attended Ferris State University where he received a bachelor's degree in biology. He then went on to obtain a doctorate degree from the Michigan College of Optometry. Throughout these studies, he spent time learning both in the classroom and in the exam room about the latest research and technology regarding eye care.
Zach trained at the Wyoming VA Medical Clinic where he diagnosed and managed a variety of ocular diseases such as glaucoma, macular degeneration, cataracts, and retinal vascular occlusions. Zach practices full-scope optometry and is trained in binocular vision disorders and contact lenses. Zach is board certified by the National Board of Examiners in Optometry and is a member of the Michigan Optometric Association.
Outside of talking optometry with his dad and brother, Zach enjoys being active outside, vacationing with his family and friends, and a good game of cribbage. Zach is beyond excited to join Avery Eye Care and looks forward to serving the community of St. Johns and beyond.
Dr. Zach has interests in binocular vision disorders, contact lenses, ocular disease, and custom/unique glasses or sunglasses.